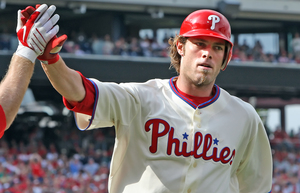 As the World Series begins Wednesday in Tampa, an interesting story with a medical angle is the rise of Philadelphia Phillies outfielder Jayson Werth.
Werth was seriously injured during spring training in 2005 as a member of the Los Angeles Dodgers when he was struck on the wrist by a pitch. After one unsuccessful operation he was examined during the summer of 2006 by Richard Berger, M.D., a Mayo Clinic orthopedic surgeon, who diagnosed a split tear of the UT ligament. Dr. Berger had discovered this type of injury and how it can successfully be treated through his research, and published research findings last year.
Following his successful operation, Werth signed a contract with the Phillies in December 2006. The Philadelphia Inquirer chronicles his rise to everyday player status in 2008 after a productive 2007.
This UT split tear injury affects many younger, active individuals who suffer trauma to their wrist. Here is a Mayo Clinic Medical Edge TV story describing the condition and its treatment.
Here is an audio podcast about the injury and its treatment featuring an extended interview with Dr. Berger.
Update 10/22/08 at 11 p.m.: Jayson Werth had two doubles and scored a run in the Phillies 3-2 win over the Rays in Game 1 of the 2008 World Series.
Update 10/26/08 at 10:40 p.m.: Jayson Werth is now hitting nearly .400 in the World Series, after a double and a two-run homer that put the Phillies ahead 8-2 in Game 4, a game they eventually won 10-2.